Fresno State Transportation Institute
Transportation Business & Management
Summer 2024 Study Abroad in Spain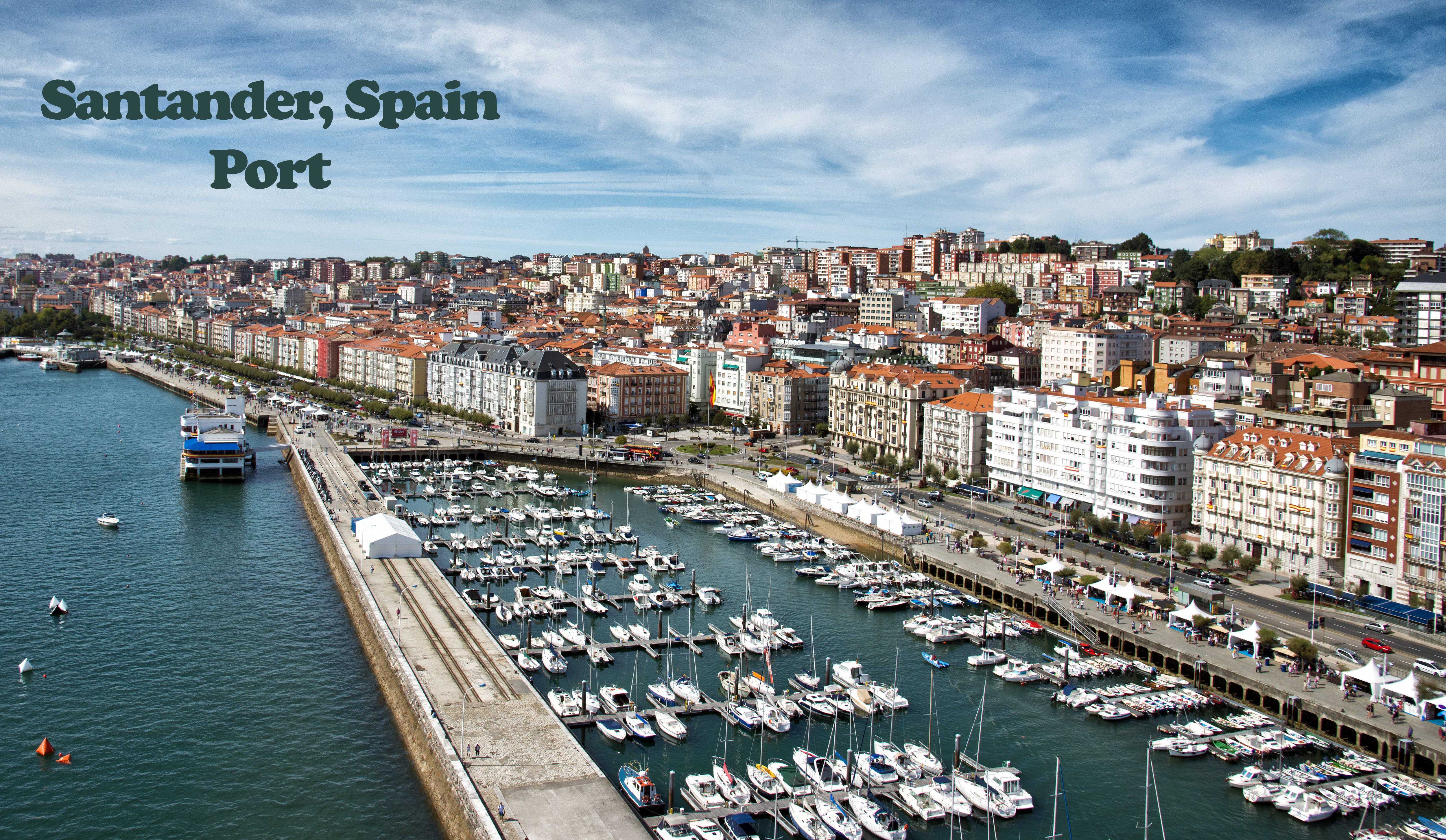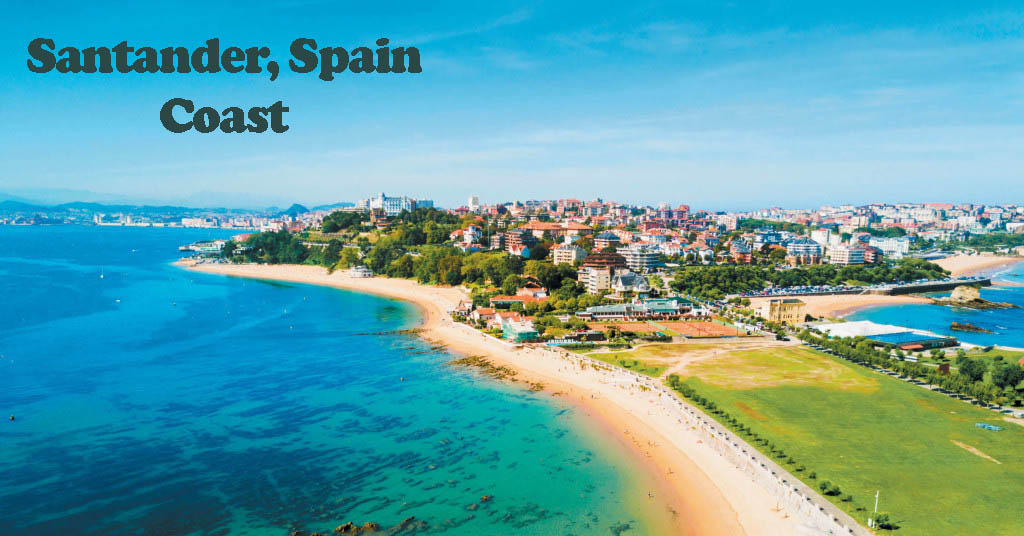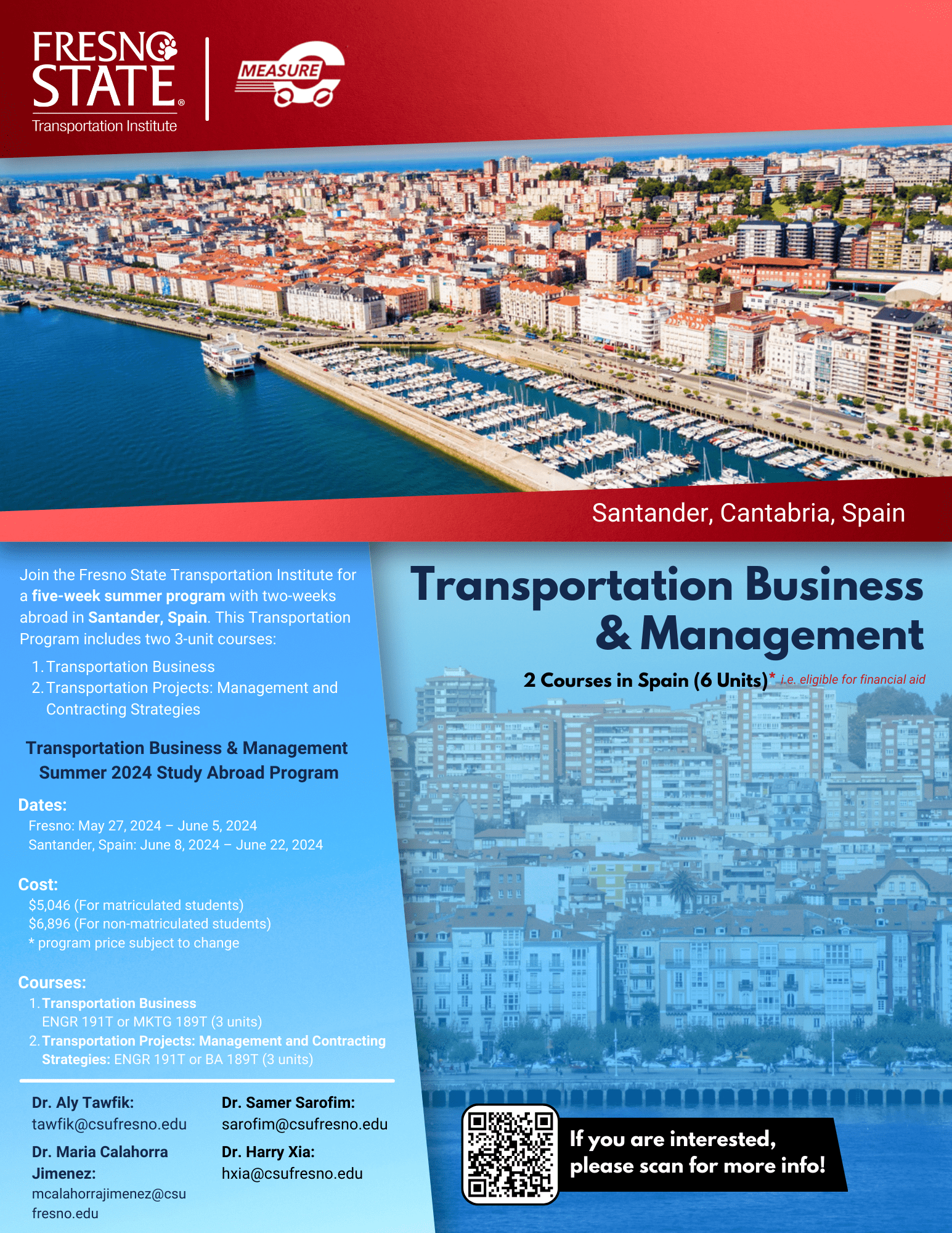 About
Explore the World, Expand Your Horizons: Study Abroad in Santander, Spain!
This two-course program will provide students with international perspectives and pratical tools focusing on Transportation Business and Management.
One of the courses focuses on building a business plan for an entrepreneur or firm interested in the development of a new product or service in the transportation business. A key element of the course is a project; students build a detailed plan to solve transportation-related problems, whether old or new. This may include analysis of problems of product or service design; development of structure, promotion, inter-organization cooperation and control in international marketing. Special emphasis on the importance of innovation and creativity for customer satisfaction.
The other course focuses on the essentials of capital budgeting and financing in the construction business and how to track and interpret the financial performance of a construction project throughout its life cycle. The course also provides the context in which the design and construction of transportation projects are developed, including the project life cycle, key participants, project delivery systems, and procurement methods.
Students will have first-hand experience learning about, seeing, using, and understanding the european transportation paradigm and how different it is from the American model. Students will enjoy field visits to the different transportation facilities in Santander, Spain including the port, transit systems, active transportation modes, and airport. Students will also meet and engage with local transportation buisnness owners and professionals. In addition, students would enjoy the rich culture, vibrant atmosphere, beautiful nature, and the warm summer waters of the region.
This program will take students to Santander, Spain, for two weeks in June 2024. This program is open to upper-division students in the colleges of Engineering and Business. Also, upper-division students in other departments across campus upon approval of their advisors.
Early registration is strongly encouraged.
Participants in this program must have a valid passport that expires no sooner than 6 months after the return date of your program.
Any disability requiring special attention must be reported to the instructor, so the corresponding accommodations can be made.
All participants in this program must register for credit, including non-matriculated individuals.
Information Sessions

Zoom Meeting Link: https://fresnostate.zoom.us/j/85264207408

| Date | Time | Location |
| --- | --- | --- |
| 11/16/2023 | 2:00 PM | Hyflex : Engineering West 101 and Zoom (Link Below) |
| 11/29/2023 | 10:00 AM | Zoom (Link Below) |
| 12/07/2023 | 5:30 PM | Zoom (Link Below) |
---
Details
Before traveling, talk to your doctor about immunizations. More information can be found at:
Program Dates:
Fresno: May 27, 2024 – June 5, 2024
Santander, Spain: June 8, 2024 – June 22, 2024
Program Price:
$5,046 (For matriculated students)
$6,896 (For non-matriculated students) Program price subject to change
Courses:
1. Transportation Business:
ENGR 191T or MKTG 189T (3 units)
2. Transportation Projects: Management and Contracting Strategies
ENGR 191T or BA 189T (3 units)
Credit: 6 units
Students must enroll in both courses
Eligible for Financial Aid
Program Leaders
Program Leaders
Phone#
Department
Email
Dr. Aly Tawfik
559.278.8791
Department of Civil and Geomatics Engineering
Lyles College of Engineering
tawfik@csufresno.edu
Dr. Samer Sarofim
559.278.2915
Marketing and Logistics Department
​​​​​​​Peters School of Business
sarofim@csufresno.edu
Dr. Maria Calahorra Jimenez
559.278.8747
Construction Management Department
Lyles College of Engineering
mcalahorrajimenez@csufresno.edu
Dr. Harry Xia
559.278.4981
Finance and Business Law Department
Peters School of Business
hxia@csufresno.edu
Passports:
Participants in this program must have a valid passport that expires no sooner than 6 months after the return date of your program. Those needing a U.S. Passport can apply in the Passport Place Office, located in the Kremen Education Building, Room 140.
Routine service for first-time applicants (ages 16 and over) takes up to 14 weeks from the form DS11 submission date.
Expedited services for first-time applicants (ages 16 and over) take up to 10 weeks from the form DS11 submission date. There is an additional fee for this service.
For more details on passport information or to schedule an appointment, visit the Passport Place at Fresno State.
The program price includes:
Tuition fees for 6 units of coursework payable to the Division of Continuing and Global Education
Round-trip airfare from San Francisco, CA to Santander, Spain
Travel Insurance
13 nights of hotel accommodations in twin rooms, hotel tax and service changes, and wireless internet
Field trips, cultural site visits, and tours outlined in the itinerary
Some meals
Local transportation
Tour guide and field specialist
Emergency support
Intra-program coach transportation
Gratuities for guides and drivers
Transportation to and from Fresno to San Francisco airport
Passport fees
Additional tours, excursions, and incidentals
Some meals
Personal needs such as laundry, beverages, and entertainment
Luggage overage fees
Oversees mobile phone data plan
Vaccinations and immunizations required for travel

Important Dates
| Dates of Study Abroad Periods | Description |
| --- | --- |
| February 28, 2024 | Payment of $1,000 is due through the Study Abroad portal. Last day for students to request a refund. Refund requests must be made before 4:30 pm. |
| March 20, 2024 | Payment of $1,003 due through Study Abroad portal. |
| April 3, 2024 | Tuition and registration fees of $2,040 due through PeopleSoft. |
| April 23, 2024 | Payment of $1,003 is due through Study Abroad portal. Those participants who do not qualify for a travel grant will have to pay $2,853 |
| June 8, 2024 | Group departs for Santander, Spain from San Francisco airport. Students are responsible for getting to the San Francisco airport on their own at least 3 hours before flight departure time. |
| June 22, 2024 | Group travels back to San Francisco from Santander, Spain. |