Fresno State Transportation Institute
Transportation Business Summer 2022 Study Abroad Course - POSTPONED due to Omicron virus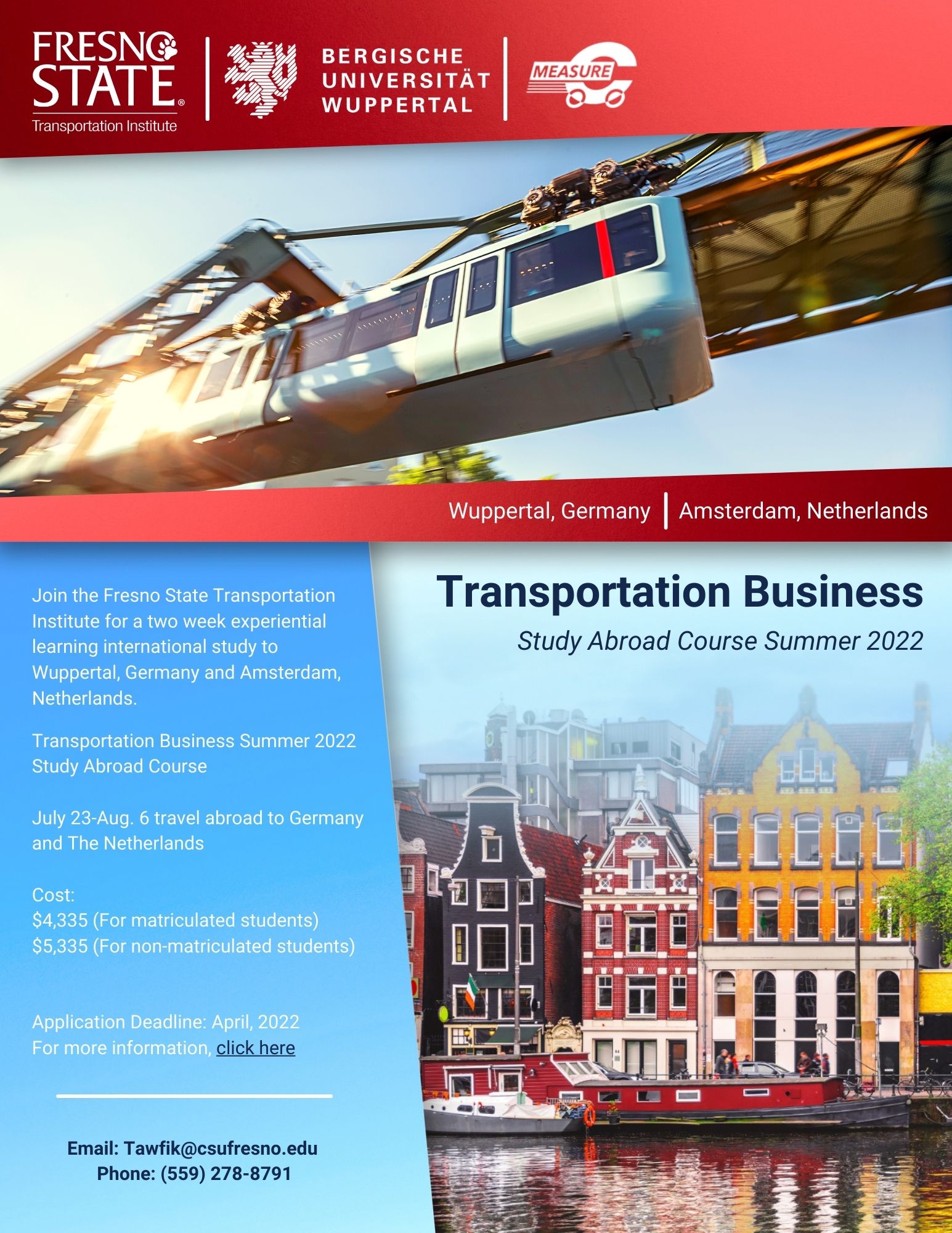 About:
This course will take a practical look at building a business plan for an entrepreneur or firm
interested in the development of a new product or service in the transportation business. A key
element of the course is a project; students build a detailed plan to solve transportation-related
problems, whether old or new. This may include analysis of problems of produce/service design,
channel structure, promotion, and inter-organization cooperation and control in international marketing. Special emphasis will be placed on the importance of innovation and creativity for customer satisfaction. This course will take students to Wuppertal, Germany, and Amsterdam, Netherlands.
This course is open to upper-division students in the colleges of Engineering and Business. Also, upper-division students in the Department of Geography and City and Regional Planning (College of Social Sciences). Early registration is strongly encouraged. Proof of a valid passport is required prior to the trip. Any disability requiring special attention must be reported to the instructor.
All participants in this program must register for credit, including non-matriculated individuals. This course is being offered in partnership with WorldStrides Custom Program which requires all participants on this program to be fully vaccinated against COVID-19 before the program begins.
Click HERE to explore our digital brochure.
---
Before traveling, talk to your doctor about immunizations. More information can be found at:

Program Price:
$4,335 (For matriculated students)
$5,335 (For non-matriculated students)
Course: ENGR 191T or MKTG 189T
Credit: 3 units each
Passports:
Participants in this program must have a valid passport that expires no sooner than 6 months after
the return date of your program. Those needing a U.S. Passport can apply in the Passport Place
Office, located in Kremen Education Building, Room 140.
Routine service for first-time applicants (age 16 and over) takes up to 14 weeks from the form DS11
submission date.
Expedited services for first-time applicants (ages 16 and over) take up to 10 weeks from the form
DS11 submission date. There is an additional fee for this service.
For more information, go to the Fresno State Passport Place website at: https://cge.fresnostate.edu/gateway/passport.html
The $5,354 program price includes:
A $915 tuition fee for 3 units of coursework payable to the Division of Continuing and Global Education
Travel insurance
Round trip airfare from Los Angeles, CA to Germany and Amsterdam to Los Angles, CA
Accommodations for each night spent in Germany and Amsterdam
Field trips, cultural site visits, and tours outlined in the itinerary
Some meals
Local transportation
Tour guide and field specialist
Emergency support
Intra-program coach transportation
Gratuities for guides and drivers
Passport fee
Getting to and from Los Angeles airport
Additional tours, excursions, and incidentals
Most meals
Luggage overage fees
Hotel incidentals (mini bar)
Local mobile phone
Information session dates: TBD
April 5, 2022: CGE Tuition and program fee of $990 due. Last day for students to request a refund
of CGE tuition – refund requests must be made before 4:30 pm on April 5, 2022
April 13, 2022: $500 deposit paid to WorldStrides
May 6, 2022: $1,423 payment due to WorldStrides
May 13, 2022: Last day to apply for a Routine Passport. I strongly suggest doing this well in
advance!
June 3, 2022: $1,422 final payment due to WorldStrides. (If you do not qualify for a travel grant, your
final payment will be $2,422 to WorldStrides)
July 23, 2022: Depart from LAX - Student is responsible for getting to LAX and must arrive at LAX at
least 3 hours before flight departure.
August 6, 2022: Return to LAX