Fresno State Transportation Institute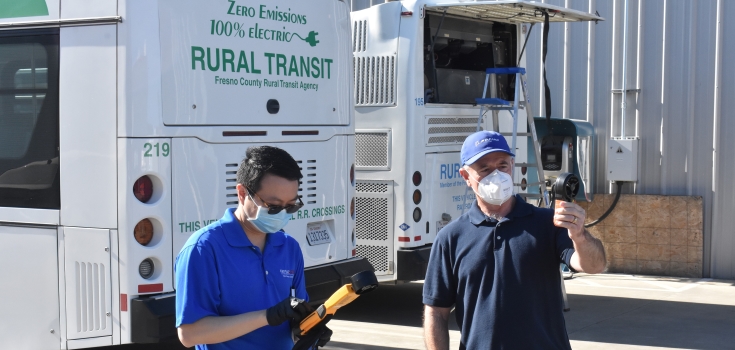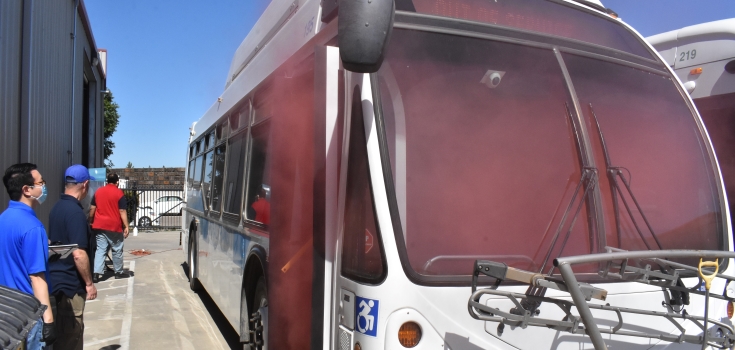 COVID-19 Public Transportation Air Circulation and Virus Mitigation Study

Project Overview
COVID-19 has changed the way people go about their everyday activities. The Fresno State Transportation Institute posed a concern about how the coronavirus would impact public transportation given that it is difficult to social distance in the limited space of buses, trains, and planes. Given that these modes of transportation rely on HVAC systems to circulate air, the additional risk of the virus circulating in the air has become a concern.
With this in mind, the study seeks to answer the following questions: How fast does the virus travel/clear in the bus's airflow? How does the virus transmit via surfaces on the bus?
The methods and devices used to quantify the data for these answers included smoke candles, videotaping, air speed measurers, temperature, relative humidity and CO distributions, pressure differentials, particle counts, 3D numerical simulation models, and virus numbers and their infectious abilities. Additionally, three prokaryotic viruses (nonharmful) were utilized to simulate the presence of coronavirus within the bus: MS2, T7 and Phi 6 (Note: the Phi 6 virus is most similar to the coronavirus). The experiment tested various methods to aid in purifying the airflow and surfaces within the bus. In regards to the airflow, the photocatalytic insert and the UV-C lights proved most effective in eliminating the virus. Please see the infographic for further details.
Project Team:
Principal Investigator: Aly Tawfik,

Director of the Fresno State Transportation Institute and Associate Professor of Transportation and Systems Engineering in the Lyles College of Engineering

Co-PI: Dr. Deify Law, Associate Professor of Mechanical Engineering in the Lyles College of Engineering

Dr. Juris Grasis, Assistant Professor in Molecular and Cell Biology at University of California, Merced

Moe Salem, Chief Technology officer for Air2O Cooling, LLC

Joseph Oldham, Project Manager, Fresno Metro Ministry, Inc.
Project Partners:
Fresno County Rural Transit Agency

City of Clovis Transit
Research Award: Research Project of the Year ASCE Award
Recent Media Coverage:
Past Media Coverage:
For more information, contact:
Dr. Aly Tawfik
Associate Professor of Civil Engineering in the Lyles College of Engineering
tawfik@csufresno.edu
559.278.2500