Fresno State Transportation Institute



About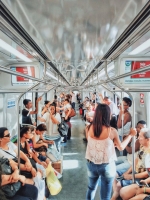 The Fresno State Transportation Institute is a collaboration between the 15 cities within Fresno County, Fresno State's Lyles College of Engineering, Sid Craig School of Business and College of Social Sciences and Fresno Council of Governments. Inception of the Institute began in 2017 upon the approval of $3 million of Measure C New Technology Reserve funds approved by the Fresno Council of Governments (COG) Policy Board and the Fresno County Transportation Authority.
The Institute addresses four measures consistent with the Regional Transportation Plan and Sustainable Community Strategy, including Education, Research, Technical Service and Public Outreach.
Learn More About FSTI's Mission
The funding supports student and faculty research in areas such as air pollution and greenhouse gas emissions, safety, energy, congestion and advanced transportation technologies.