Lyles College of Engineering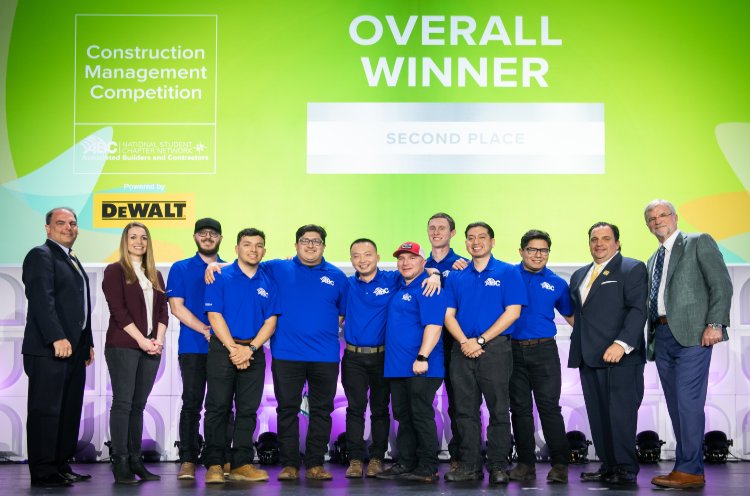 Fresno State students place at ABC Construction Management Competition
Associated Builders and Contractors has announced the winners of its annual Construction Management Competition, which were honored at ABC Convention 2023 in Orlando, Florida, March 15-17. A total of 21 teams of undergraduate students from colleges and universities nationwide competed this year.
Coming in second place overall, Fresno State also placed in estimating and project management.
"The participation and preparation for our competitions this year have been phenomenal, especially the recent competition our team went to this past March," said construction management student Tomas Mata. "The amount of joy and excitement exceeded the pressure and nervousness we had at the beginning once we heard we placed 2nd out of all the colleges/universities there. Personally, I am proud of the guys and the amount of work we all endured leading up to the trip. This win marks a high point in our time here at Fresno State and has made student life much more meaningful. Also, knowing we can stand up to universities with extensive programs makes it much better."
The four-person teams put their construction project leadership skills to the test by completing the same construction management project. This year's project focused on construction of a four-story, pre-K-12 education building located in downtown Orlando, the first phase of an ongoing campus capital improvement plan.
The project will provide transformative spaces for students and faculty to learn, collaborate, problem-solve and create. The approximately 70,000-square-foot facility will replace existing educational structures with a first-class facility hosting a student union, a library, a college and career center, administrative offices, an innovation hub, labs, classrooms and spaces for collaboration, study and social.
All participants are active members of the ABC National Student Chapter Network, which connects local ABC chapters to colleges and universities with construction management programs to build the talent pipeline and mentor future leaders of the construction industry.
DEWALT is the presenting sponsor of ABC's National Student Chapter Network. The competition is also supported by the Autodesk Construction Cloud and Gordian. A full list of the winners is available at abc.org/cmc.