Lyles College of Engineering
A Message from the Dean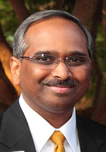 Welcome to the Lyles College of Engineering, at California State University, Fresno.
"No profession unleashes the spirit of innovation like engineering. From research to real-world applications, engineers constantly discover how to improve our lives by creating bold new solutions that connect science to life in unexpected, forward thinking ways. Few professions turn so many ideas into so many realities. Few have such a direct and positive effect on people's everyday lives. We are counting on engineers and their imaginations to help us meet the needs of the 21st century.
This recent statement from the National Academy of Engineering says it all!! The engineering profession profoundly impacts society and plays a huge role in the development and growth of economies. Engineering education has been at the core of university programs at California State University, Fresno (Fresno State) for almost 90 years. Our alumni of over 6000 students who have earned undergraduate and graduate degrees in engineering and construction management have made and are making great strides in meeting the needs of the 20th and 21st centuries.
The Lyles College of Engineering plays a pivotal role in ensuring that a highly educated and qualified workforce is created to sustain and grow the economy of our region. By building collaborative partnerships with industry, government and nonprofit agencies, the students, faculty and staff of the Lyles College of Engineering are helping to meet the critical needs of our region and beyond.
The Lyles College of Engineering offers nationally accredited BS degree programs in Civil Engineering, Computer Engineering, Construction Management, Electrical Engineering, Geomatics Engineering, and Mechanical Engineering, and graduate degree programs in Civil Engineering, Electrical Engineering and Mechanical Engineering. Well equipped laboratories, faculty and staff with professional and research expertise, hands on learning, small class setting, scholarships, honors program, partnerships with industry, student services and programs and internships all in a comprehensive university setting makes the Lyles College of Engineering an attractive destination for prospective students and industry partners.
I invite you to contact us to talk about our various programs and services. We look forward to hearing from you.
Ram Nunna, Ph.D
Interim Dean