Bachelor of Science Mechanical Engineering (BSME) Program Overview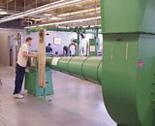 BSME students can achieve a level of specialization through elective courses in mechanical systems or thermal systems. A major goal of the program is to provide its graduates the analytical and practical skills needed to perform design in a variety of fields. Completion of the program results in a Bachelor of Science in Mechanical Engineering (BSME) degree. The BSME program is accredited by the Engineering Accreditation Commission of ABET, http://www.abet.org. The program has been continuously accredited since 1965.
Students participate in an industry-sponsored internship program - Valley Industries Partnership (VIP) for Co-operative Education - that allows our students to gain industrial experience and financial benefits, while in still enrolled in college, by working for companies affiliated with the VIP program. The department also assists students to complete the Fundamentals in Engineering (FE) exam to become Engineers in Training (EIT), the first step towards professional licensure as a Professional Engineer (PE).
Employers of mechanical engineers include machinery and equipment companies, automobile and aircraft firms, gas and electric utilities, architectural and engineering firms, and many agencies in federal, state and local governments.
Mission of BSME Program
The mission of the Department of Mechanical Engineering is to "provide a broad-based, practice-oriented Mechanical Engineering education that enables graduates to become technically-proficient and professional leaders through innovative, entrepreneurial, multi-interdisciplinary engagement in the community and lifelong learning."
Program Educational Objectives of BSME Program
Our alumni (within 3 to 5 years after graduation) will:
1. Be engaged in a professional career of graduate studies using
knowledge and skills obtained in their ME education;
2. Become leaders and effective communicators actively involved in
their community for the betterment of society.
Student Outcomes of BSME Program
Upon successful completion of the Bachelor of Science in Mechanical Engineering program, students have achieved the following:
1. an ability to identify, formulate, and solve complex engineering problems by applying principles of engineering, science, and mathematics
2. an ability to apply engineering design to produce solutions that meet specified needs with consideration of public health, safety, and welfare, as well as global, cultural, social, environmental, and economic factors
3. an ability to communicate effectively with a range of audiences
4. an ability to recognize ethical and professional responsibilities in engineering situations and make informed judgments, which must consider the impact of engineering solutions in global, economic, environmental, and societal contexts
5. an ability to function effectively on a team whose members together provide leadership, create a collaborative and inclusive environment, establish goals, plan tasks, and meet objectives
6. an ability to develop and conduct appropriate experimentation, analyze and interpret data, and use engineering judgment to draw conclusions
7. an ability to acquire and apply new knowledge as needed, using appropriate learning strategies.