Programs
Mechanical Engineering is the discipline that focuses on design of many types of machinery and equipment used in transportation, manufacturing, air and space transportation; consumer products; robots; biomedical devices; and energy conversion systems. Mechanical engineers use thermodynamics, heat transfer, dynamics, thermal and fluid mechanics, design software, engineering materials, and the principles of mathematics and science to create solutions to technical challenges
Degrees Offered

The Department of Mechanical Engineering (ME) offers programs of study that lead to the degrees:
BS in Mechanical Engineering (BSME)
MS in Engineering-Mechanical Engineering option (MSE-ME)
See the current catalog for course descriptions and degree requirements.
Bachelor of Science Mechanical Engineering (BSME) Program Overview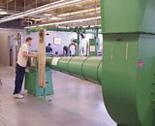 BSME students can achieve a level of specialization through elective courses in mechanical systems or thermal systems. A major goal of the program is to provide its graduates the analytical and practical skills needed to perform design in a variety of fields. Completion of the program results in a Bachelor of Science in Mechanical Engineering (BSME) degree. The BSME program is accredited by the Engineering Accreditation Commission of ABET, http://www.abet.org. The program has been continuously accredited since 1965.
Students participate in an industry-sponsored internship program - Valley Industries Partnership (VIP) for Co-operative Education - that allows our students to gain industrial experience and financial benefits, while in still enrolled in college, by working for companies affiliated with the VIP program. The department also assists students to complete the Fundamentals in Engineering (FE) exam to become Engineers in Training (EIT), the first step towards professional licensure as a Professional Engineer (PE).
Employers of mechanical engineers include machinery and equipment companies, automobile and aircraft firms, gas and electric utilities, architectural and engineering firms, and many agencies in federal, state and local governments.
Mission of BSME Program
The mission of the Department of Mechanical Engineering is to "provide a broad-based, practice-oriented Mechanical Engineering education that enables graduates to become technically-proficient and professional leaders through innovative, entrepreneurial, multi-interdisciplinary engagement in the community and lifelong learning."
Program Educational Objectives of BSME Program
Our alumni (within 3 to 5 years after graduation) will:
1. Be engaged in a professional career of graduate studies using
knowledge and skills obtained in their ME education;
2. Become leaders and effective communicators actively involved in
their community for the betterment of society.
Student Outcomes of BSME Program
Upon successful completion of the Bachelor of Science in Mechanical Engineering program, students have achieved the following:
1. an ability to identify, formulate, and solve complex engineering problems by applying principles of engineering, science, and mathematics
2. an ability to apply engineering design to produce solutions that meet specified needs with consideration of public health, safety, and welfare, as well as global, cultural, social, environmental, and economic factors
3. an ability to communicate effectively with a range of audiences
4. an ability to recognize ethical and professional responsibilities in engineering situations and make informed judgments, which must consider the impact of engineering solutions in global, economic, environmental, and societal contexts
5. an ability to function effectively on a team whose members together provide leadership, create a collaborative and inclusive environment, establish goals, plan tasks, and meet objectives
6. an ability to develop and conduct appropriate experimentation, analyze and interpret data, and use engineering judgment to draw conclusions
7. an ability to acquire and apply new knowledge as needed, using appropriate learning strategies.
Master of Science Mechanical Engineering (MSME) Program Overview
The MSME Program attracts three types of students: i) Seniors in the BSME program who participate in the accelerated (150 unit blended) Masters program; ii) BSME-holders working in industry pursuing a Masters part time; iii) International students who are entering a graduate program in the US for first time. The MSME provides students with an education grounded in graduate fundamentals with an emphasis on practice culminating in a Master of Science in Engineering - Mechanical Engineering option (MSE-ME) degree.
Mission of MSME Program
"To educate engineers who, entrusted by society, will create a sustainable world and enhance the quality of life during the 21st century as engineering professionals. The MSE-ME program provides advanced engineering education in Mechanical Engineering to resident students as well as to practicing engineers working in the industry and government surrounding the Fresno metropolitan area. Graduates of this program should be able to advance their career and work on complex engineering problems dictated by continuing advances in technology. Additionally, the program seeks to prepare graduates for advanced research and engineering applications to fulfill the technical needs of in the region and beyond."
Objectives of MSME Program
1) To enhance understanding, beyond the undergraduate level, of the scientific principles involved in the practice of mechanical engineering,
2) To reinforce proficiency in the methodologies of design in mechanical engineering,
3) To increase competency in using advanced techniques of analysis, including mathematical analysis and modeling, numerical techniques, and related tools as applied to mechanical engineering,
4) To improve written, oral, graphical communication skills including public speaking,
5) To develop creative thinking skills required in understanding and solving complex engineering problems,
6) To acquire and demonstrate a sufficient depth of knowledge in a substantive area of mechanical engineering,
7) To enhance analytical skills by developing a deeper understanding of major theoretical and practical engineering concepts,
8) To increase competence for solving practical yet increasingly complex discipline-specific engineering problems.
Program Outcomes of MSME Program
Students graduating from the MSME program will be able to:
1) understand the scientific principles and to know the modern, advanced professional techniques in mechanical engineering,
2) design Mechanical Engineeringor engineering products and systems,
3) know the latest procedures for analysis in Mechanical Engineeringor engineering,
4) be proficient in solving advanced problems in engineering analysis and design through the use of mathematical analysis, differential equations, finite element methods, finite differences, or least square errors,
5) be proficient in writing in general, but especially writing technical documents, research reports, and proposals,
6) be proficient in oral and public presentations in front of technical and non-technical audiences.
Program Requirements
The program consists of the following:
A. Main Core (1 unit) ENGR 200
B. Option Core (9 units) (choose 3 courses): ENGR 201, 202, 205, 206
C. Electives (14 units) Choose from remaining upper-division and program courses. Maximum of 9 upper-division units. See courses in Mechanical Engineering.
D. Culminating Experience (6 units) Students may choose from the following options:
1. 6 units of program electives plus 0 unit comprehensive exam, or
2. 3 units of program electives plus 3 unit EE 298 or ME 298 Project, or
3. 6 units of EE 299 and/or ME 299 Thesis. Total (30 units)
Up to nine semester hours of satisfactory graduate credit may be transferred into the program from other institutions if not used in completing another graduate degree program. Undergraduate courses may be transferred if the courses were not used in completing another degree program. The total undergraduate upper-division semester hours applied to this degree program cannot exceed nine hours.
Useful Forms

Undergrad (BSME)
ME Undergraduate Program Flyer
Graduate (MSME)
Grad Handbook