Lyles College of Engineering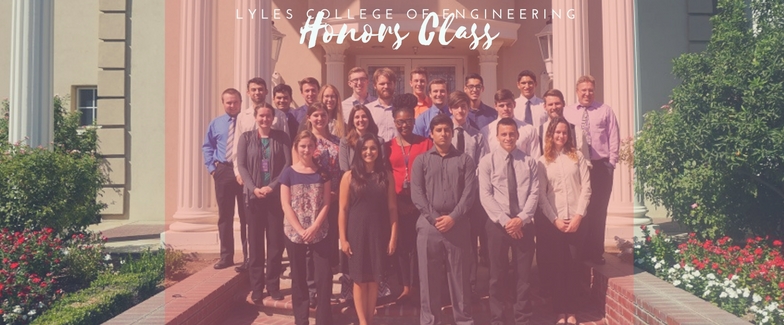 The Honors Program
Fall 2024 application period is open from 1 October 2023 - 29 January 2024
Lyles College of Engineering's Honors Program emphasizes academic excellence, leadership, service, global perspective, entrepreneurship and innovation. Students in the Honors Program have access to individualized learning options, research projects, access to industry leaders, opportunities for internships, and opportunities for hands-on learning.
Honors Program first time freshmen students will receive the Husband-Boeing Honors Scholarship or the Lyles Family Honors Scholarship of $26,500 payable over eight semesters and/or up to four years of undergraduate studies at Fresno State. Transfer students will receive $13,250 payable over four semesters and/or up to two years of undergraduate studies at Fresno State.
Important Dates:

Admission to Fresno State
Lyles College of Engineering Honors Program Application Period: 1 October 2023 - 29 January 2024

To apply for the LCOE honors program, you must first complete the Fresno State General Scholarship Application. After you complete the general scholarship application, you will be able to view and apply for the honors scholarship. The scholarship requirements and supplemental program application will be visible under the "opportunities" directory.
LCOE Honors Program Information Flyer
Questions, please contact Honors Program Director
Dr. Aaron Stillmaker
Director, LCOE Honors Program
Associate Professor, Electrical and Computer Engineering
Email
559.278.4823
More Information
Please contact:
Office of the Dean
Lyles College of Engineering
559.278.2500