Department of Construction Management Programs
An Overview
We have a multitude of programs for students who are interested in furthering their knowledge of construction management. Our programs allow students to increase their knowledge and skills in both construction and business to effectively lead construction teams. Graduates with a construction management bachelor's degree can also pursue other positions, which may require further education or certification. The Bureau of Labor Statistics projects employment for construction managers to increase 11% from 2016 to 2026, which is faster than the national average for all occupations.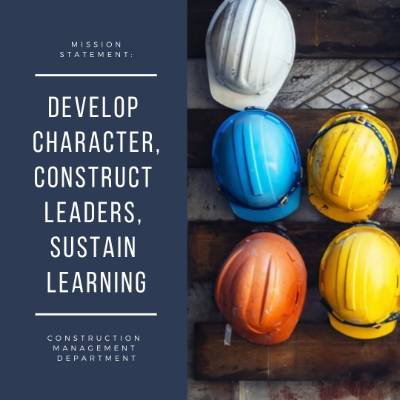 Programs
The Construction Management Department provides many opportunities for those interested in pursuing a career in this field. The options we have for our students include:
Change of Major or Adding Minor
Students currently enrolled at Fresno State are welcome to apply to change/add an Architectural Studies or Construction Management major OR add an AS or CM minor offered in the Department of Construction Management. Admission is contingent on space availability in the major. Please complete this short survey. The department will contact you if you meet the requirement.
Program Admission Requirements
Generally, first-time freshman applicants will qualify for regular admission if they meet the following requirements: (1) they have graduated from high school, have earned a Certificate of General Education Development (GED), or have passed the California High School Proficiency Examination; (2) they have a qualifiable minimum eligibility index table; and (3) they have completed with grades of C or better each of the courses in the comprehensive pattern of college preparatory subject requirements (see Subject Requirements).

Details of all requirements can be found at this link.