Research and Projects
Research - Mixed Reality Learning
Construction Management Associate Professor Dr. Wei Wu was awarded one of 12 prestigious grants from the National Science Foundation to study the utilization of mixed reality as a cyberlearning technology and assess if it can provide students with the same educational benefits as physical experience. This research is being conducted in a joint effort with Arizona State University professors Dr. Steven Ayer and Dr. Jeremi London. Technology is reshaping careers in architecture, engineering, and construction. For students pursuing these kinds of occupations, acquiring multi-faceted skills is critical for career success. Outcomes of this research hope to provide answers as to different ways students can acquire the skills necessary to become industry leaders.
For more information on this project:
Capstone Projects
All construction management majors must complete a capstone project in their final academic year. Students receive guidance from a faculty adviser and academic credit for their work on these projects. Below are some recent student projects:
AT&T Tiny Office
Faculty Advisor: Prof. Molly Smith
Starting Fall 2018, five Construction Management seniors teamed up to build a 430-square-foot tiny office for their Capstone Project. The team partnered with Student Involvement to make a relocatable office to be used for student affairs' events. In Fall 2018, the team collaborated with the client team and came up with a working design. In Spring 2019, the team began to build what would be the AT&T tiny office. Thanks to a grant by AT&T as well as the support from numerous donors such as Harris Construction, BMY, Precision Framing, Platt Electrical Supply, Michael J Clason Construction, and more, the tiny office will be a huge asset to the Fresno State campus. While undergoing this project, the students were able to master the skills of scheduling, developing, material and donation acquisition, as well as producing digital models and learning trade skills. The most vital ingredient to the successful build of the tiny office was the hours of building, communication skills, and teamwork from our students.
Final Tiny Office

Tiny Office with sliding door being built

Tiny Office sides being added

Construction Workers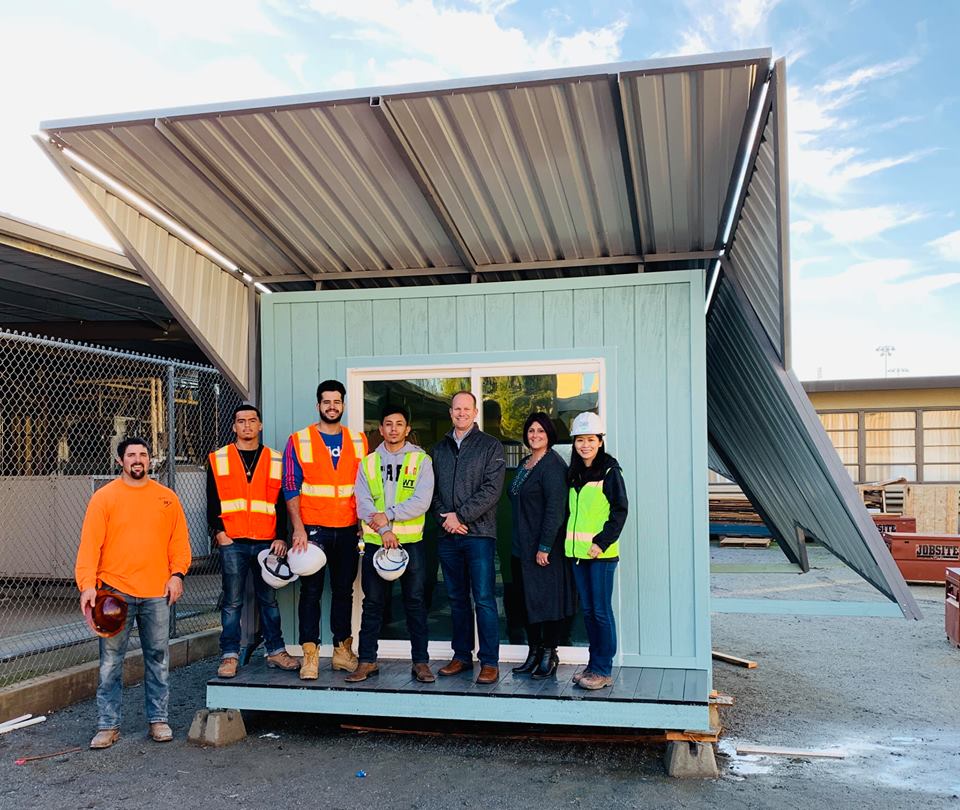 Poverello House Shelter
Faculty Advisor: Dr. Vivien Luo
Four construction management students recently built a 100-square-foot temporary shelter to help raise awareness about homelessness in the Central Valley. The original design concept was created by renowned local architect Arthur Dyson, and was meant to provide a positive and uplifting environment for those who use it. The construction management students created plans, digital models, and a detailed cost estimate as parts of the project, in addition to building the actual structure. They also collaborated with Silvana Polgar's interior design class to design the shelter's interior. The students received tremendous support for the project, including material donations valued at $7,000 from Webcor Builders, BORGA Steel Buildings, Valley Iron, Inc., Wicks Fabrication, Inc., Dura Rubber, and the Construction Management Department. The shelter was presented to the Poverello House in a ribbon-cutting ceremony on February 21st, 2019.
For more information on the Poverello House Shelter:
Fresno State News Article || Ribbon-Cutting Ceremony Video


Playhouses || Faculty Advisor: Dr. Vivien Luo
In the Spring of 2018, four groups of students worked to create playhouses for their projects, which were then auctioned off to fund the Professional Women in Building Scholarship Fund. Each team individually designed and built their playhouse to fit their theme. We would like to give special thanks to Caryn Wiser from JLS Environmental for her help coordinating this project. This was the first time our students have done a project like this. Due to the great success we had, our students are now teaming up with local high schools for Project Playhouse 2019. The high school students will help with the building, which will provide our students with an opportunity to experience people management.
Little Red Corral Playhouse

white Castle Playhouse

Little Loft Playhouse (interior features a lofted play area)

Old Town Playhouse

Tiny House || Faculty Advisor: Dr. Vivien Luo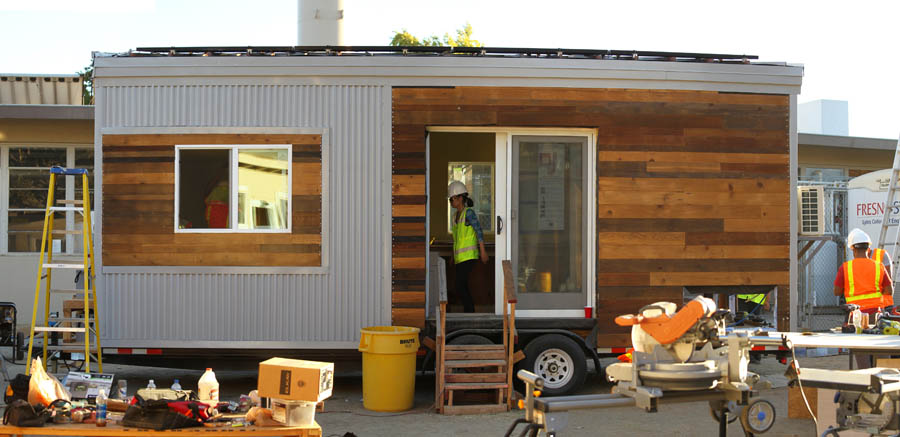 A team of construction management students worked together to build a 190-square-foot, eco-friendly Tiny House. The team contributed many hours to research, design, and implementation of the project. Some of its eco-conscious features include solar electricity, gray water reuse for drip irrigation, and the utilization of reclaimed wood from a 1800s barn. They were assisted by student and community volunteers who donated time and materials to help complete the project. The project was promoted in collaboration with the Media, Communications, and Journalism Department on campus. The project was submitted to the Sacramento Metropolitan Utility District's tiny house competition and ranked in 7th place among the competing colleges. Due to the success of this project, students are currently working on a senior project "Tiny Office" for Fresno State.
For more information on the Fresno State Tiny House Project:
Lyles College News Article || Tiny House Facebook Page