Lyles College of Engineering
Service and Engagement
Service and Engagement with our region are the hallmarks of our University. Fresno State has been recognized for exceptional Community Service Programming. In 2007, Fresno State was one of the first 76 colleges and universities to be awarded the Carnegie Foundation's "Community Engagement" Classification.
In 2009, Fresno State received the Presidential Award for General Community Service from the Corporation for National and Community Service.
Fresno State has made the President's Higher Education Community Service Honor Roll in 2007 and 2010.
The students and faculty in the Lyles College of Engineering are committed to service and engagement and participate in numerous activities throughout the year. Examples are:
The Lowell Neighborhood Revitalization Project
Engineers Without Borders - The Cambodia Experience
Habitat for Humanity
University Hope
Eco-Village
For more information, please contact Associate Dean Dr. Jesus Larralde.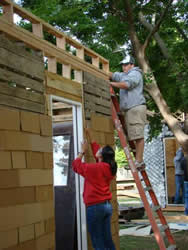 Construction Management Students working on a EcoVillage structure in 2010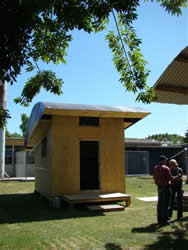 A finished EcoVillage Structure