Lyles College of Engineering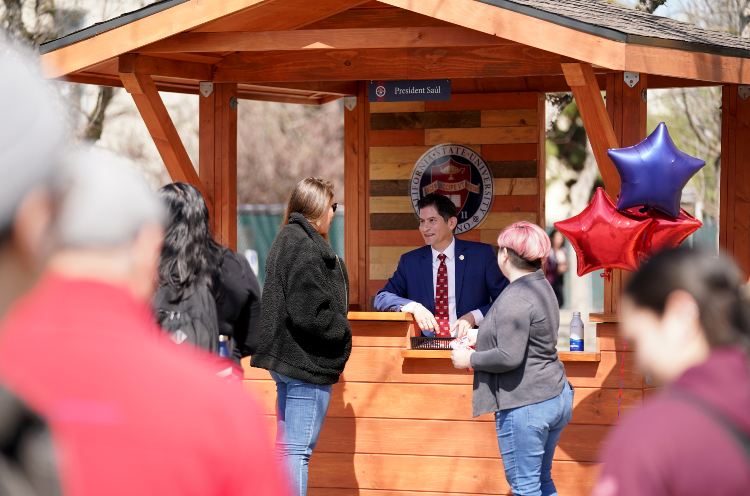 New booth on campus allows students to connect with Fresno State president
Fresno State President Saúl Jiménez-Sandoval introduced a new meet-and-greet space on campus on March 16, when he connected with students, faculty and staff, answered questions and listened to ideas and concerns.
The booth, constructed by three students for the Lyles College of Engineering, now stands alongside the booths of student-run organizations on the main path that leads to the Fresno State Library, between the University Student Union and University Center.
"I want to reach the students in a very direct way and connect on a more personal level, which is why I went with a booth," Jiménez-Sandoval said. "The goal is to establish a culture where students know who their president is and that the president cares about them."
Jiménez-Sandoval plans to visit the booth about twice each month, and will also invite deans and other administrators to answer questions and build a stronger connection with the campus community through direct lines of communication.
Construction management students Anthony Sousa and Carlos Antonio and architectural studies student Jaqueline Molina Berber were selected from a dozen applicants to create a design and build a structure that will stand for years to come.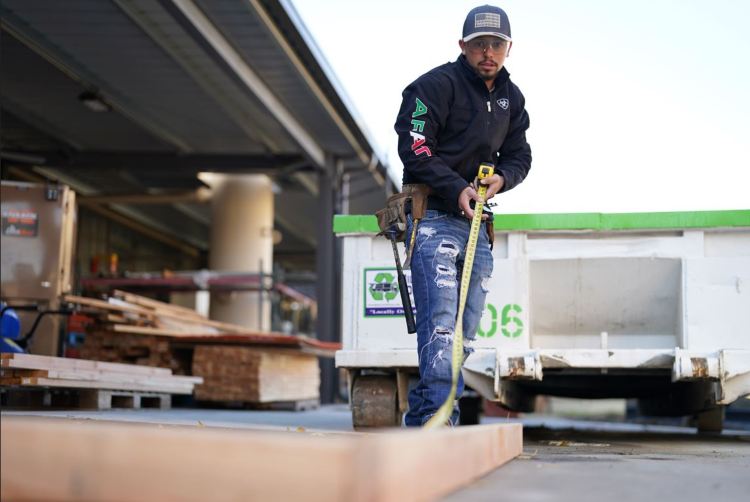 "I was really intrigued when I heard about this opportunity because I knew that the president wanted to do something that was going to benefit the students," Berber said. "I was so excited to be selected because many of my projects have been very conceptual, and I would actually get to see this one come to life."
Berber transferred to Fresno State from UC Irvine last fall. She was studying civil engineering but fell in love with architecture and was intrigued by the Lyles College's new architectural studies program. The booth project allowed her to demonstrate her drawing and 3D rendering skills.
Following campus guidelines, Berber's design had to meet the 6-foot wide and 8-foot height dimension requirements while staying within a $1,200 budget for materials. Funding was provided by the Office of the President.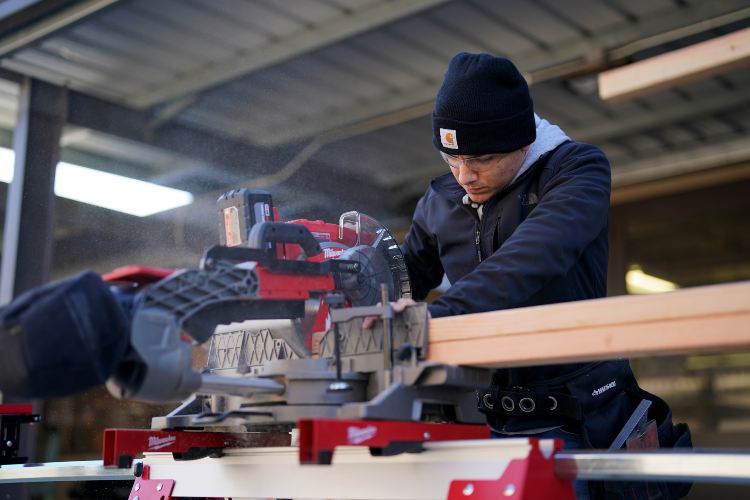 The design features a double-sloped roof with 10 inches of overhang in the front. The old weathered wood accent is a prime contributor to the modern look of the booth while the bottom plates are made of pressure-treated wood for moisture control and to mitigate wet rot. The countertops are made of planed cedar wood.
"Giving the booth an inviting feel was very important considering students would undoubtedly feel intimidated to talk to the president or one of his representatives," Berber said. "My design has features to ensure an inviting and laid-back atmosphere to put students' nerves at ease."
The team balanced classes, finals and student competitions while completing the construction of the booth. Sousa is graduating this spring and said the booth is his way of leaving a lasting mark on the campus.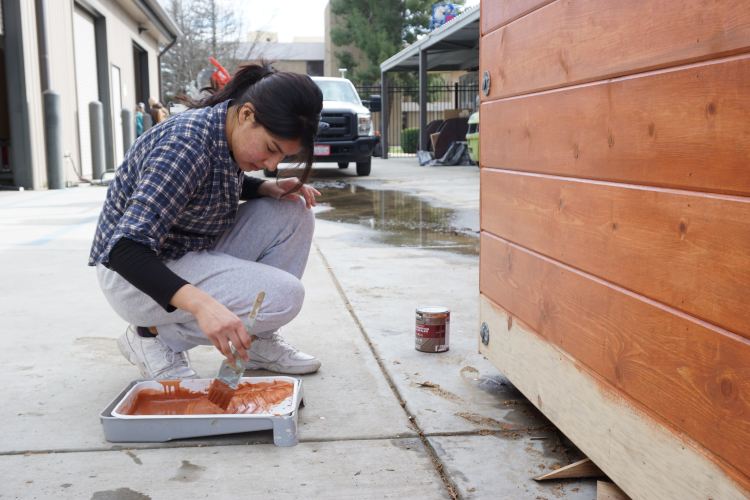 "I hope that students from the construction management program will see it and be proud of what we did, and also see that they are capable of doing these types of projects too," Sousa said.
A schedule of Jiménez-Sandoval's availability at the booth will be announced on the Office of the President's website. His next visit is at noon on Monday, March 27.
"It's always about highlighting the creativity of our students and faculty, and this is something to be extremely proud of," Jiménez-Sandoval said. "It's going to be great."