Lyles College of Engineering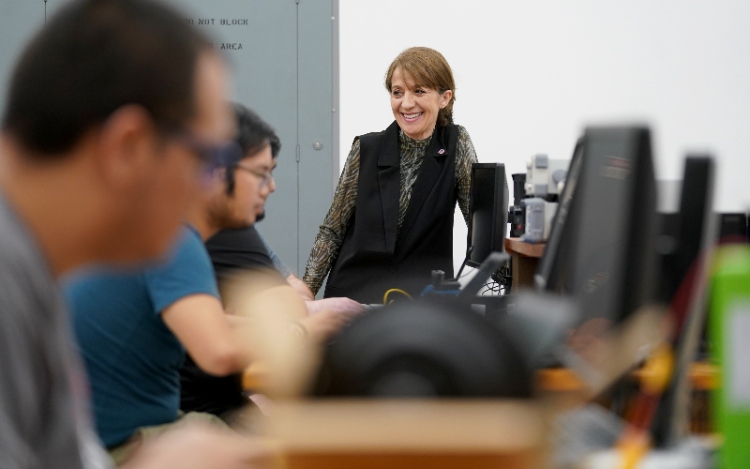 $2.5 million grant establishes scholarships for engineering students
The National Science Foundation Scholarship in Science, Technology, Engineering and Mathematics program awarded Fresno State's Lyles College of Engineering $2.5 million for the Enhanced Engineering Education for Underserved Communities of the San Joaquin Valley (E3) project.
The project will support the recruitment, retention and graduation of high-achieving, underrepresented and financially disadvantaged students pursuing an undergraduate degree in civil, geomatics, mechanical, electrical or computer engineering at Fresno State.
Two cohorts of engineering students will receive scholarships with an average value of $11,000 annually over six years.
"Some students have to work to support themselves because they don't receive enough financial aid and some are barely surviving. So it's like we are adopting them by mentoring them and taking away that financial burden to allow them to focus on their studies and work on interesting projects and research," said Dr. Zoulikha Mouffak, project principal investigator and associate professor of electrical and computer engineering at Fresno State.
The project will also provide educational, emotional and professional support using three sets of high-impact practices. Upon entry, faculty mentors and trained peer tutors will guide and support students along their curricular pathways. Students will also be encouraged to participate in extracurricular activities consisting of project-based learning, research, community service projects and early design.
Project-based learning, which involves students working on real-world engineering problems linked to community service, will support student development of critical thinking and problem-solving skills, and promote creativity, innovation and service to society.
"We serve such a high proportion of first-generation students, and I think that this program has the potential to help us close the achievement gaps," said Dr. Kimberly Stillmaker, associate professor of civil engineering at Fresno State and director of the Lyles College Foundations for Success program. "I think that we will see better first-year performance, which then provides [students] with a solid foundation to excel in the rest of their program."
By their junior year, students will participate in work-based learning opportunities such as internships, shadowing and alumni mentoring, and will begin preparation for entry into careers or graduate programs.
"All of these factors will help develop students' engineering identity, improve their retention and keep them on track for a timely graduation," Mouffak said. "They will also be seen as role models to others in their communities."
Students selected for the six-year program will be Fresno State applicants for the 2024-25 and 2025-26 academic years. Eligible applicants will be invited to submit a full application, that a team of five engineering faculty will review.
Mouffak said the project will be transformative for the Lyles College and will contribute to the potential transformation of other institutions, particularly minority-serving colleges of engineering.
"It is very rewarding to change the lives of a few of these students who think they wouldn't become engineers if we did not provide this program," Mouffak said. "That is the most noble thing I can ever do."