Lyles College of Engineering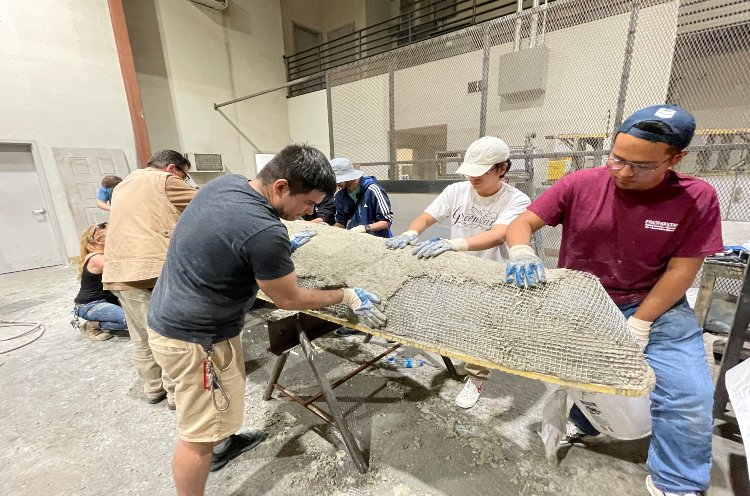 Civil engineering students compete in annual competition
Several civil engineering students from the Lyles College of Engineering at Fresno State will compete against students from more than 16 universities at the 2023 American Society of Civil Engineers Mid-Pacific Student Symposium April 20-22, at Chico State University.
The annual event provides civil engineering students the opportunity to demonstrate leadership and technical knowledge through career-oriented competitions such as concrete canoe, steel bridge, water treatment, mini-games and many other regional competitions. The winning teams will have an opportunity to compete at the national level.
"This competition is a great way to demonstrate that Fresno State is more than just a school," said civil engineering student Alessandro Toledo. "It's also a place where students can get hands-on with research and projects in preparation for these types of events."
Toledo, an international student from Ecuador and representative for the Fresno State chapter of the American Society of Civil Engineers, helped with the construction of this year's concrete canoe.
The design of the canoe, named Sailor Moon, began last fall. Construction was completed earlier this month. Students met regularly to create a concrete mixture and pour it to form a mold that will be put to the test. Local company Floyd Johnston Construction provided an on-site space for the students to build at.
"The canoe's quality and durability will be graded along with the speed, which will be demonstrated during the race piece of the competition," Toledo said. "I'm excited to see all of our work in action and learn how we can improve for next year."
The water treatment team, captained by civil engineering student Emma Archuleta, will build a filtration system that will be judged based on water quality, design report, construction, efficiency, cost and an oral presentation at the symposium.
The team spent the past few months experimenting with different chemicals and filter structures to clean dirty water and get rid of particles from items like coffee grains, oats and soil.
"I feel good about the competition," Archuleta said. "We have come a long way since our early testing days and we did have some setbacks, but we were able to find solutions with the support of our engineering faculty."
Archuleta is graduating this spring and said although this is her last time competing, she would like to continue creating filters. After graduation, she will begin a new role as an assistant engineer for the water treatment team at Provost & Pritchard Consulting Group.
In addition to constructing a canoe and water filtration system, students also constructed a scale-model steel bridge to span about 20 feet and carry 2,500 pounds. The team had to determine how to fabricate their bridge and then plan for an efficient assembly of all the pieces under timed construction conditions at the competition. Bridges will also be load-tested, weighed and judged on aesthetics.
Clemente Delgado, a civil engineering student and treasurer of the Fresno State chapter of the American Society of Civil Engineers who is also minoring in business and construction management, assisted with designing the bridge in AutoCad, a drafting software application. Fresno State won third place in last year's steel bridge competition and Delgado said he hopes the team wins first place this time.
"We are very thankful for the professionals at Liberty Metals who helped us with cutting steel, drilling and welding so that we could put this big puzzle piece together," Delgado said . "We have a solid design and this structural project was a great way to learn about the things we will have to do in our future careers."