Lyles College of Engineering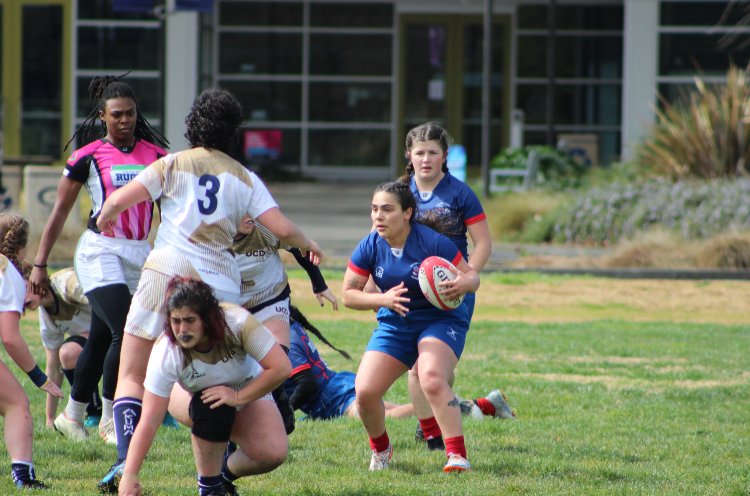 Construction management student selected to play on all-star rugby team
Fresno State student Miralena Patino was watching the 2020 Olympics on TV when the rugby competitions caught her attention. She thought the sport looked fun and decided to join the Fresno State women's ruby club in 2021. She then decided to take on the role of president of the club during the 2022-23 season.
Although the regular season concluded earlier this month, it is not the last time that Patino will play this spring. She has been selected to play on the Northern California U23 all-star rugby team.
"To have been selected to be on the team means a lot to me. It shows that all of my hard work is being noticed," Patino said. "Out of 30-plus girls on the team, I made the cut, so it really is a great feeling of achievement."
Patino will travel to Seattle to play against other all-star selects on April 28. She also has an opportunity to be selected to play in a game between the West Coast and the East Coast. From there, she can be selected to play on the national team, the USA Eagles, or its feeder team, the Hawks.
Patino is the scrum-half of the team and acts as the link between the forwards and the backs. She is responsible for grabbing the ball out of a tackle and passing it off to her teammates.
Omar Moustafa, defensive and backs coach for the team, describes Patino as the decision-maker and the beating heart of the team.
"Mira is a natural-born leader with an amazing mindset for resolving issues that might arise as a club president," Moustafa said. "She is a dedicated player who always shows up before practice to work on their specific skills. In practice, she is attentive and hungry for knowledge, and during games, she is skillful and never backs down from a challenge."
When Patino is not on the field, she is working on completing a bachelor's degree in construction management from the Lyles College of Engineering at Fresno State.
"My grandpa was a heating and air conditioning subcontractor, and I always wanted to go with him up on the roofs because you could do things that not a lot of people get to do every day like go on the roof of somewhere or operate machinery. I just thought it was cool," Patino said.
In addition to her presidential duties, Patino is the marketing director for the Fresno State chapter of the Society of Hispanic Professional Engineers. She is also active in construction management clubs.
Patino will complete an internship in Tracy this summer with construction company Garney Pacific. She hopes to become a field engineer after she graduates next year. Until then, she plans to continue playing for the rugby team.
"I always try to set an example, and I want my teammates to progress and grow, and hopefully I can inspire them to be club president one day," Patino said.