Lyles College of Engineering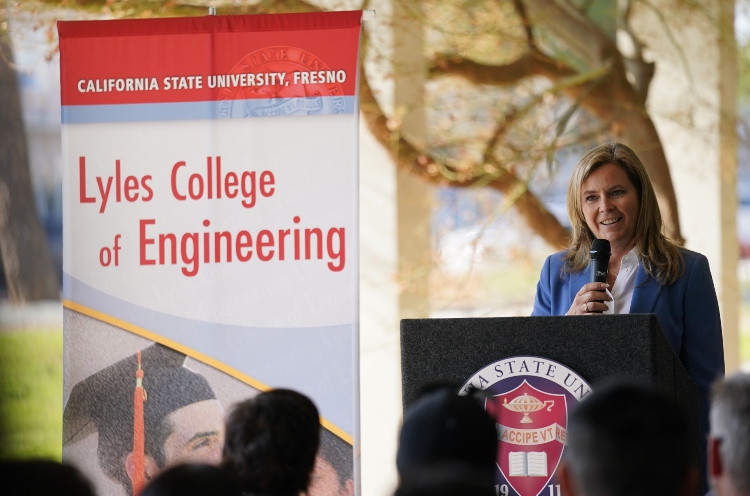 Beavers Charitable Trust gift supports construction faculty position
The Department of Construction Management at Fresno State celebrated a $500,000 gift from the Beavers Charitable Trust, along with additional gifts from DeSilva Gates Construction, Teichert Construction, Kiewit Corporation and Browning Contractors, Inc. – bringing the total to $674,000.
University officials and the Beavers Charitable Trust representatives recognized the gift with a celebration in front of Fresno State's Engineering East building on Jan. 27.
"The strong partnerships that we have with the Beavers Charitable Trust and the other industry leaders have a major impact on our students' success," said Dr. Ram Nunna, dean of the Lyles College of Engineering at Fresno State. "We are grateful for the relationships we have with them. These partnerships help us to enhance our programs and develop the next generation of construction industry leaders."
The Beavers Charitable Trust, a non-profit organization first established in 1977 by the board of directors of Beavers Inc., awards millions of dollars annually in scholarships to support educational institutions focused on heavy construction. These grants not only support education, but also help build the next generation of heavy civil construction leaders.
In 2020, the organization made an impactful investment by committing to give $100,000 per year for five years to establish an endowment to fund a faculty position in heavy civil construction at the Lyles College.
Both the gift and the proposed faculty position were unique. The position required the recruitment of a faculty member with a blend of industry and academic experience. In July 2020, Dr. Maria Calahorra-Jimenez was selected as the Beavers Heavy Civil Construction Faculty Fellow.
Calahorra-Jimenez holds a Ph.D. in civil engineering from the University of Colorado, Boulder and a Ph.D. in engineering science from the Catholic University of Chile.
"The gift is an amazing opportunity that has positively impacted my teaching career," Calahorra-Jimenez said. "It has allowed me to focus on an area that I really love while having the opportunity to interact and collaborate with great professionals from the heavy civil industry. This collaboration helps me to improve my classes and also supports my professional growth."
Before earning her doctoral degrees, Calahorra-Jimenez worked at international engineering firms for 14 years. She served as technical office manager, project manager, and project engineer involved in the design and construction of more than 100 infrastructure projects — totaling nearly $2 billion — in Spain and Chile.
Since joining the Lyles College, Calahorra-Jimenez has bolstered the college's heavy civil curriculum. She also coaches the heavy civil section of the Lyles College Associated Schools of Construction team that competes annually. With her guidance, the team works on projects provided by industry members that require analyzing drawings, figuring out how to build a project, and defining a schedule and a cost estimate.
"Having a professor that has worked in the heavy civil industry and could provide expert assistance whenever we had questions about what we were reading and estimating was extremely beneficial," said Gerardo De Jesus Salazar, who completed a bachelor's degree in civil engineering with a minor in construction management this past fall.
Salazar competed with the Associated Schools of Construction team twice during his time as a student at Fresno State under the direction of Calahorra-Jimenez. Salazar's interest in bridges and transportation along with his desire to learn about the fundamentals of construction management led him to the heavy civil construction sector.
Last year, Salazar received the Lamberson Memorial Scholarship from the Beavers Charitable Trust. The scholarship awards up to $25,000 to an undergraduate student going into the heavy civil construction industry.
"Not only did the scholarship help me finish college debt-free, it also allowed me to focus on my internship, senior design and closing out my degree while eliminating the stress of having to work while going to school," Salazar said.
Salazar will begin a new role as a project engineer at Walsh Construction this month. He said he hopes students' interest in the heavy civil construction industry will continue to grow.
"The Beavers Charitable Trust and partnering companies are opening a door to expanding heavy civil within the Lyles College through their support," Salazar said. "It's clear that they are committed to helping students here succeed."