Lyles College of Engineering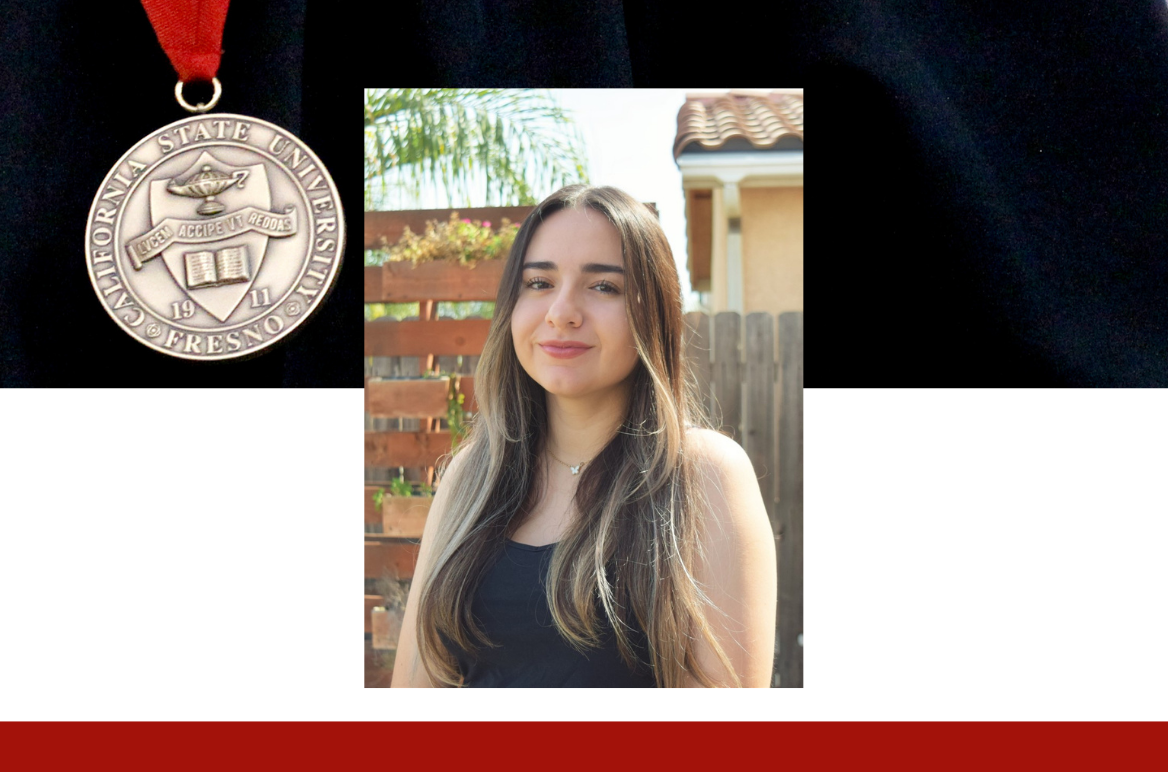 Dean's medalist forging paths for females and Latinx in STEM
As we near graduation this May, we celebrate all the Fresno State students who have persevered through COVID-19 pandemic. Alejandra Leija who is studying mechanical engineering in the Lyles College of Engineering, is one of those students.
Over the last year, she completed a remote internship with General Electric Aviation where she focused on LEAN processes and contributed to a sustainability project involving recycling of wasted retired engine materials. She also continued to research biomedical devices in prosthetics and blood pressure monitoring devices. All while serving alongside her peers as president and vice president of the Society of Women Engineers (SWE) and received a 2021 WE Local Guiding Star award from SWE. An award given to exceptional collegiate leaders who have made outstanding contributions to SWE, the engineering community, their campus and community.
"This pandemic has been challenging in many ways as my senior year is not what I imagined it would be when I first started Fresno State, but I am thankful for all the support I have," Leija said. "I, along with other students in the Lyles College of Engineering have managed to make the best of it. It opened my eyes to problems our society has, and I hope to find solutions with my degree. It has also changed my perspective as I am more appreciative for the little things that I overlooked before all of this took place."
Leija's most recent accomplishment is being named 2021 Undergraduate Dean's Medalist for the Lyles College.
"In addition to research, academics, internships and leadership in student chapters of professional organizations, Alejandra also has an outstanding record of community service," Dr. Ram Nunna, Dean of the Lyles College said. "She is most proud of her outreach work with K-12 students because she knows first-hand how young minds can be inspired to pursue their dreams."
At Parlier Middle School, Leija was introduced to the Mathematics, Engineering, Science, Achievement (MESA) program, where her fascination with engineering began.
"Ms. Luzania was the middle school teacher that introduced me to engineering through the MESA program," Leija said. "She will forever inspire me to keep going because if it wasn't for her, I don't think I would be on this path."
Other inspirational leaders include Leija's mother, who received her bachelor's degree in liberal arts and currently serves as a teacher. Her sister is currently working toward a master's degree and her brother, a PhD.
"My SWEsters have also inspired me like Emma, Kai, Kami, Desirae, Hayley, Jessica, Felise, Catalina, Monica, and the list goes on and on," she said. "Each of them has a story and a mindset that I find so inspiring. I can't wait to see what their futures hold, because I just know they are all going to do amazing things. Pride is the word I would use to describe both my SWE and SHPE [Society of Hispanic Professional Engineers] family that has provided me support both as a student and a person."
In 2020, Leija earned the Northrop Grumman ScholarSHPE, Honorable Mention at the SHPE Conference Engineering Science Symposium and the opportunity to serve as the Region 1 RLDC SHPEtina student representative.
"Many SHPEtina's and other powerful latinas like Dr. Ellen Ochoa [former NASA astronaut], Alexandria Ocasio-Cortez [congresswoman], and Sonia Sotomayor [associate justice of the Supreme Court of the United States] have served as role models for me because of their power and willingness tokeep doing what they love regardless of the barriers they may face as minorities," she said.
With help from the Lyles Family Honors Scholarship, Leija's tuition was paid for over the course of four-years. This enabled her to not only focus on her studies, extracurricular activities, and community service, but also take part in research. Leija helped design a blood pressure monitoring device that utilizes Shape Memory Alloys (SMAs) with the goal of improving measurement accuracy by 20% and reducing the cost by 50%.
"Overall, I want to make the world a better place in terms of climate change and social inequalities," she said. "For this reason, I am leaning towards STEM public policy at the moment. No matter where I go, I want to represent my community of women and Latinx in STEM. I want to be a role model that might inspire a girl to try out STEM."