Mathematics Engineering Science Achievement (MESA)
Advisors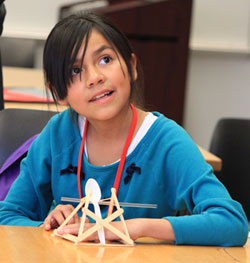 Welcome advisors! We look forward to working with you this year as you help your students excel in math and science and encourage them to become eligible for the most competitive colleges and universities.

We're ready to build on last year's activities and lessons and provide our MESA students with some fun new projects and trips this year. Activities for the fall semester include:
Student Leadership Retreat: Student leaders kick off their year with a retreat at Fresno State. This Saturday event includes leadership training, information about MESA programming, and time for school-site groups to plan for the year. This retreat will be followed by monthly Student Leadership Meetings.
MESA Saturday Academies: Students come together on the Fresno State campus to interact with faculty, staff, and college mentors. Additionally, they learn about college life and tackle MESA projects and other hands-on science and engineering activities. We'll have two Academies during the fall, with one more to follow in the spring.
MESA Statewide Canvas : Great resources for MESA teachers to implement in MESA Class, afterschool or lunch program. Teachers will need to request access to resource. Please contact Beatrice Prieto bprieto@csufresno.edu to request access.
All advisors must have an online Advisor Profile. This profile gives us important contact information and is required by our statewide office.

Please use the links to the left to access additional resources and information. Also, don't hesitate to call our office at 559.278.2976 with any questions. We know that MESA works because of the efforts of our advisors. Thanks for all that you do to make MESA successful!
Quick Links:
Follow us on: